Hebt u één of meerdere rekeningen niet op tijd betaald? Dan kunt u te maken krijgen met loonbeslag. De schuldeiser legt dan via uw werkgever beslag op een deel van uw loon. Uw werkgever weet dan ook meteen van uw betalingsproblemen en dat kan erg vervelend zijn. Bovendien kost het uw werkgever veel tijd om het beslag te verwerken.
Budgetoverzicht maken
Het niet op tijd betalen van rekeningen heeft altijd te maken met het ontbreken van overzicht in uw financiën. De budgetcoaches van Financieel Sterk kunnen samen met u een budgetoverzicht maken, zodat er een evenwichtig inkomsten- en uitgavenpatroon ontstaat. Daarnaast kijken we ook naar waar u kunt besparen. Zo verdient u de kosten van budgetcoaching vrijwel altijd terug.
'Ik heb persoonlijk de betrokkenheid van Financieel Sterk bij mijn financiële problemen ervaren als zeer betrokken en actief in het ondernemen van actie. Door hen is een hoop stress bij mij weggenomen. Voor mensen in financiële problemen zeer zeker een aanrader om van hun diensten gebruik te maken.' – Dirk D.
Huishoudboekje in balans brengen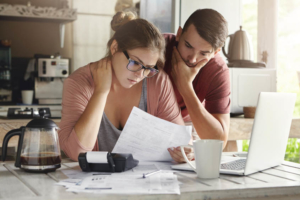 Wat is budgetcoaching? Budgetcoaching heeft als doel om u overzicht en inzicht in uw financiële situatie te laten krijgen. Het heeft vooral een preventieve taak, namelijk het voorkomen van (nieuwe) schulden om niet verder in financiële problemen te komen. Tijdens de intake bekijken en bespreken we uw huidige situatie en overleggen we wat er moet gebeuren om uw financiële huishoudboekje weer in balans te krijgen. Na deze inventarisatie bespreken we wat we gaan doen en wat de kosten hiervoor zijn. U beslist dan of u daar samen met ons aan wilt gaan werken.
Het plan van aanpak voor budgetcoaching is:
op orde maken administratie
maken budgetoverzicht
begeleiden contacten schuldeisers
onderzoeken bespaarmogelijkheden.
De laatste afspraak van het afgesproken traject is een evaluatiegesprek. We kijken dan of er overzicht is gekomen in uw administratie. Gedurende het traject kunt u gebruikmaken van onze 24-uurs mailservice.